News
KSFC dates for Easter 2023
KSFC will be closed for the Easter break on 3rd and 10th April 2023. The club restarts on Monday 17th April 2023.
KSFC success at the Northern Youth Challenge
A great day at the Northern Youth Challenge for our foilists. The day started with the U12 boys where Alex and Harry both did well coming out of the poules with some good results. Harry finished seeded 2nd, got through the L16 and L8 DEs, but lost a tight match to finish with a bronze.
Next up was the U12 girls where Zita dominated the competition winning all her fights and finishing with a gold. Zita did so well she asked if she could enter the U14 and won 3 out of her 5 fights. She wasn't allowed to enter the DE due to her age, but would have been seeded 2nd so very well done!
Sarubhi also competed in the U14 in her first competition. She did well in the poule with some good results and came away from her first competition with a silver and a great experience!
Finally it was the turn of Samuel in the U14 boys. He had a good poule winning all his fights and only dropping a few hits. This gave him a good DE draw. However, Samuel just missed out on the gold, but earned himself a well deserved silver.
After a long day fencing, KSFC came away with 1 gold medal, 2 silver medals and 1 bronze medal. They all fought really well and the club is super proud of them. Sarubhi did fantastic in her first competition. Well done everyone!
KSFC Competition Dates
Sunday 26th February BYC Qualifiers Foil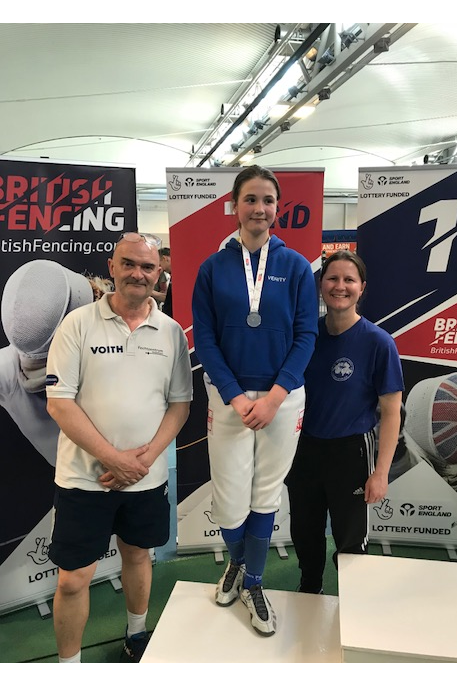 About Us
Kenilworth Sword Fencing Club is a club for junior fencers from age 8 upwards.
Regular training sessions are on Monday evenings at John Atkinson Sports Centre, Myton School, Warwick, from 7-9pm.
In addition, we run:
Beginners courses several times a year.
Additional training sessions for those competing.
One to one coaching available on request.
Achievement Award schemes for club members.
For more information email info@kenilworth-sword.co.uk
Our goals
The club was started in 2000 with the goal of introducing young people to the fantastic modern Olympic sport of fencing.
We believe that:
Participating in fencing should be safe, challenging and fun.
Members should have the same opportunities regardless of age, gender or ability.
Competing at an appropriate level should be encouraged as a positive way to develop individuals.
We have a proud history of competitive involvement at local, national and international competition. Some notable results have included regional age group champions, individual & team National Championship winners and medallists and European Cadet Circuit medals. Members have represented Great Britain at World Cup level, European & World Championships.
£

420

per annum

Payable at £35 per month on the 1st of each month
Annual membership
Class lessons
Use of club kit
Individual lessons
Competition preparation
Visitors membership
Class lessons
Individual lessons
Competition preparation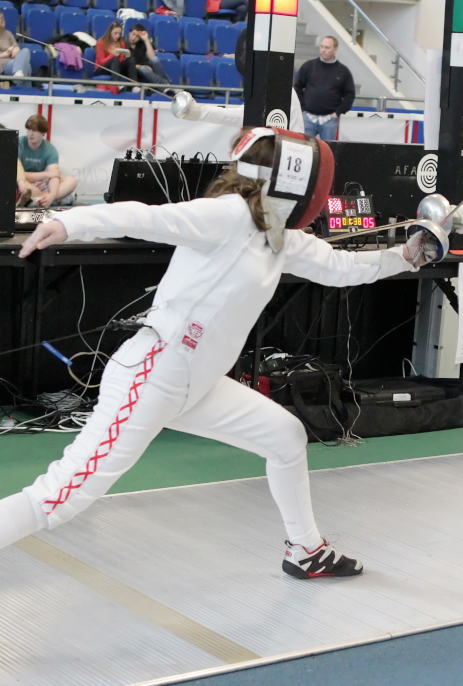 Competitions / Events
Recommended events
Competing is an important way to develop as a fencer, but it is sometimes difficult to know which competitions are appropriate to age and ability. We recommend these age group fixtures for those new to competitions:

If you have already done a few competitions like these, try:

Details of all regional and national events (younger age groups, U17, U20 and Senior) can be found respectively at:

Basic advice:
Competitions are always weapon and age specific so check entry details online.
Always enter competitions as far in advance as possible as most have an entry limit and a late entry fee.
Ensure you have the correct equipment for the level of competition.
For more information email info@kenilworth-sword.co.uk